It was the first time the public heard the 21-year old's voice.
Addressing the court during his sentencing hearing, Dzhokhar Tsarnaev asked Allah to have mercy on him, his brother and family then said he was sorry for what they did April 15, 2013 at the finish line of the Boston Marathon.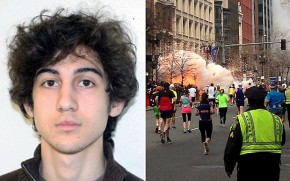 "I would like to now apologize to the victims and the survivors.  I am sorry for the lives that I have taken."
When he was formally sentenced to death for the bombings that killed 3 and injured over 260 others, including some Canadians, Judge George O'Toole said, "Whenever your name is mentioned, what will be remembered is the evil you did.  What will be remembered is you murdered and maimed innocent people."
Earlier, families of the victims and survivors made impact statements that brought some jurors, who were in court, to tears.
On survivor said her life was forever changed, but that she forgives him and his brother.
Another did not give a victim impact statement, saying to do that she would have to be someone's victim, adding she's definitely not his or his brother's.
Dzhokhar Tsarnaev is the first to be handed a death sentence in a terrorism case since the attacks of September 11, 2001.