Twelve wards across Toronto will have 30 kilometre an hour speed limits on neighbourhood streets starting in September.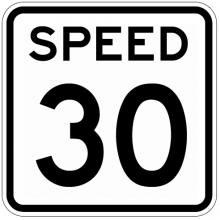 City councillors on Toronto and East York Community council voted last night to reduce the current 40 kilometre an hour limit, citing safety concerns. It's a final decision that does not need to go through full city council.
"This is a wonderful thing, because it's about safety," explained Ward 20 Trinity-Spadina Councillor Joe Cressy, "I mean what we know, if you get hit by a car at 30 kilometres an hour, your chance of surviving is 90 percent.  If you're hit by a car at 40 or 45 kilometres an hour, your chance of surviving is only 50 percent."
Ward 29 Toronto-Danforth Councillor Mary Fragedakis says her residents have been calling for this change.
"I've heard nothing but complaints for four and a half years about road safety, about the speeding that's going on through our communities," Fragedakis said.
But Mayor John Tory and some councillors on his executive committee are against reducing neighbourhood limits to 30 kilometres an hour.  Tory says he doesn't favour blanket solutions, which "may make people feel better, but aren't necessarily effective if not enforced."