Donald Trump, who kicked off his Republican presidential candidacy announcement Tuesday to Neil Young's "Rockin' In The Free World," has decided to find another campaign song.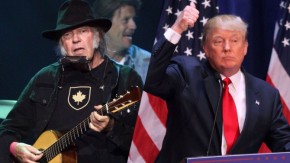 Young, who supports liberal Democrat Bernie Sanders, had objected, saying the song was played without his permission.
A press secretary for the real estate mogul and reality TV star says Trump would respect the wishes of Young and no longer use the late 80s tune, that condemned war and poverty and criticized then-President George H.W. Bush.
Spokesperson Hope Hicks says "despite Neil's differing political views, Mr. Trump likes Neil very much."
As for the contents of the campaign kickoff speech that followed the song, Trump says he has no regrets.
"There's nothing in there I didn't mean."