Fresh off a show in Montreal, Irish rock star Bono was in Ottawa Monday.
He met with Prime Miniser Harper and the NDP, Liberal leaders, Tom Mulcair and Justin Trudeau.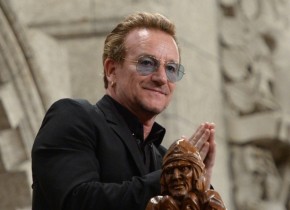 Fans waited for him on Parliament Hill, but Bono said little as his motorcade drove off.
Earlier, he praised Canada, saying the country's too modest.
The singer sparked another round in the debate over the government's development policy that's focused on maternal and child health.
Remaining politically neutral, Bono said foreign aid's a good way of "showing who you are to the rest of the world."
Bono last met with former prime minister Paul Martin over a decade ago, when they discussed foreign aid priorities at the time, which included efforts to combat the spread of HIV-AIDS in Africa.