He played with the likes of Billie Holiday, Stan Getz and Lester Young.
Toronto Jazz drummer Archie Alleyne has died at the age of 82.  He'd been living with cancer for several years.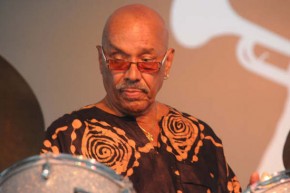 Alleyne grew up around the Kensington Market neighbourhood in the 1930s and taught himself the drums at a young age.
In his 20s, he became the house drummer at Town Tavern, a famous jazz bar on the north side of Queen Street East just off of Yonge Street.  And it was there, at the Town Tavern, in the 1950s, Archie Alleyne earned his legend  as Toronto's premier jazz percussionist.
Interestingly, he took a break from jazz for about 13 years, after a car crash in 1967. During that time, Alleyne became a partner at the Underground Railroad Restaurant in the Bloor and Sherbourne area. The restaurant was an unorthodox addition to the Toronto restaurant scene, because at that time, black restaurateurs were a rarity and the soul food on the menu was considered a first for the city.
Archie Alleyne was named as an officer for the Order of Canada in 2012.