According to the Toronto Star, Evan Solomon – one of the CBC's high-profile hosts – has secretly been brokering art deals with powerful people he's dealt with in his job on tv and radio – which would be a breach of the national broadcaster's code of ethics.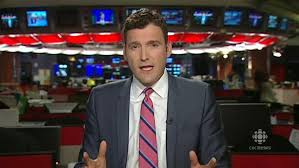 47-year old Solomon is based in Ottawa – and is one of the people in line to  replace Peter Mansbridge on The National – when he retires.
The Star alleges that Solomon has been arranging the sale of paintings and masks owned by a Toronto-area art collector – to rich and famous buyers – and accepting lucrative commissions – in one case amounting to over $300,000 – but not disclosing to the buyer that he was being paid fees for brokering the deal.
The CBC took Solomon off the air Monday – pending an investigation.
The Star says among the people to whom Solomon has brokered the sale of paintings are Jim Balsillie, co-founder of Research In Motion (now Blackberry) and Mark Carney – the former Governor of the Bank of Canada, who is now Governor of the Bank of England.
In an interview Monday, Solomon is reported to have initially told the Star that he had no involvement in the art world.
Upon further inquiry, Solomon said he was involved – but had done nothing wrong – and it was all disclosed to CBC.
Solomon then said: "I am no longer involved in the business. It is over."
CBC spokeman Chuck Thompson initially said Solomon had disclosed his involvement with an art business sometime in the past two years – and that CBC had no concerns at the time.
Thompson says Solomon is still working – and has not been suspended while the investigation continues.