The shootings in Ottawa last October are a "grim reminder" that Canada's "ill-prepared" to stop such attacks.
So says a long anticipated OPP report on how the RCMP responded as events unfolded that day.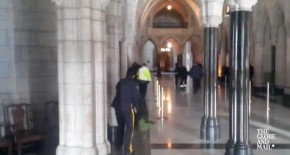 It provides graphic details of Michael Zehaf Bibeau's shooting rampage October 22, 2014.
The report says the gunman was shot numerous times when he stormed Parliament Hill, with the first bullets hitting him seconds after bursting through the door of the Centre Block.
In all, Zehaf Bibeau was shot 31 times.
He was not wearing body armour and the provincial police report concludes had he been more organized, the incident could have been much worse.