The Academy Award-winning costume designer, who dressed The Beatles and James Bond, played a key role in capturing the look of 1960's "Swinging London" on film.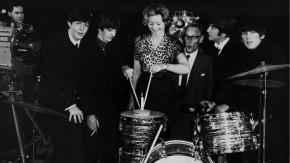 She outfitted the Fab Four for both "A Hard Day's Night" in 1964 and "Help!" the following year, saying later, "I must be one of the few people who can claim they have seen John, Paul, George and Ringo naked."
Harris won an Oscar for "Darling," a film about London models and media types starring Julie Christie and Dirk Bogarde and a British film award for the 1966 Michael Caine comedy "The Wrong Box".
Her other work including the 1967 James Bond spoof "Casino Royale," costumes for Roger Moore's debut as Agent 007, "Live and Let Die," in 1973, "Dracula" in 1979 and "The Great Muppet Caper" in 1981.