Advised by the Education Relations Commission that the ongoing strikes by teachers in Durham, Peel and the Sudbury-area jeopardizes the school year for students, the government is moving to order the teachers to return to work.
The government's tabling legislation that, if approved today, would have meant more than 70-thousand students would be back in class Tuesday.
But the New Democrats will not support the legislation, leader Andrea Horwath calling the Liberals "undemocratic" by trying to ram it through.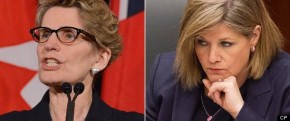 Premier Kathleen Wynne says she doesn't understand the "philosophical problem" since the NDP supported back-to-work legislation in two recent instances – during the Toronto garbage strike in 2002 and for the TTC in 2009.
PC Leader Patrick Brown says the Tories will support the bill but is "disappointed" it came to this.
Meanwhile, the president of the Ontario Secondary School Teachers' Federation claims the bill has actually "inflamed" the situation.
And the Ontario Labour Relations Board is expected to rule this week if the three strikes are actually legal.