There seems to be a link between concussions involving unconsciousness and cognitive impairment later in life.
A small study of retired National Football League players found athletes who lose consciousness after concussions may be at risk for memory loss as zoomers.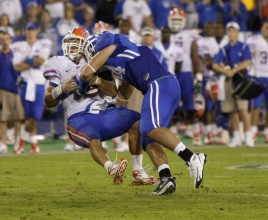 (Tim Tebow concussion from illegal helmet-to-helmet contact)
Researchers at the University of Texas Southwestern Medical Center in Dallas compared memory tests and brain scans for former NFL players and a control group of people who didn't play college or pro football.  After concussions that resulted in lost consciousness, the football players were more likely to have mild cognitive impairment and brain atrophy years later.
To assess memory and cognitive function, researchers gave participants a common verbal test measuring how well they could recall lists of words and understand how the words are related.  For example, the tester might list fruits on a grocery list and then see if the participant could repeat all of the items and understand that they are part of the same food group.
Athletes who had a concussion history as well as mild cognitive impairment had the lowest scores on this memory test.
In addition, brain scans among the study participants with mild cognitive impairment showed that the retired athletes in this subgroup had significantly smaller volume in the left hippocampus, a region of the brain that involved in memory.
The men in both groups were between 41 and 77 years of age, and about 59 on average.