Give you about 50-million reasons why this man's smiling.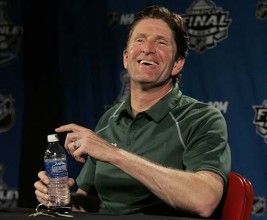 Actually, that's roughly how many dollars Mike Babcock will get over 8 years to be the 30th head coach of the Maple Leafs.
The 52-year old Babcock comes here after 10 seasons in Detroit where the Red Wings made the playoffs each season.
He posted a 458-223-105 regular season record to become their franchise leader in games coached and wins.
Babcock won a Stanley Cup in 2007-08.
He is the only coach in hockey history to lead his country to gold in consecutive Olympic appearances after guiding Canada in Vancouver (2010) and Sochi, Russia (2014).
Prior to that he lead Team Canada to a gold at the World Championship in 2004.