She doesn't have the same notoriety as Angelina Jolie, but Sandra Lee is about to go down the same path as the Academy Award winning actress.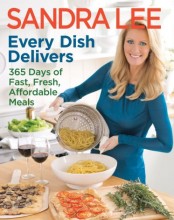 The TV host and girlfriend of New York Governor Andrew Cuomo has revealed that she will undergo a double mastectomy this week after learning she has breast cancer.
48 year old Lee made the announcement in an emotional conversation with Robin Roberts on ABC's Good Morning America.
"It was March 27th, and I was shooting People's Most Beautiful…and I walk off the set…and 20 minutes later my doctor called and told me it was breast cancer.  I didn't even cry.  I was stunned.  You know, and that's just how fast life turns.  It turns on a dime," Lee revealed.
In a statement, Sandra Lee says her decision to have a bilateral mastectomy was not taken lightly, nor was she arguing for such treatment for others.  But she is forceful about the necessity of regular mammograms like the one that detected her cancer.