We are just over five months from the fixed date of October 19th for the next federal election.
And with two years of leadership experience, the Liberal's Justin Trudeau says his family name is playing less into the message he's offering Canadians these days.
Trudeau sat down for a conversation with Conrad Black, host of The Zoomer on our sister station Vision TV, which aired last night.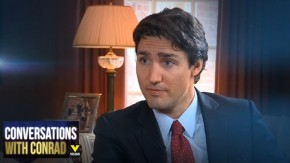 Black pointed out that this is a first for Canada, to have someone as leader of a major party who's father held the same position.
"Do you feel it has been an advantage or a handicap or just an incidental thing?" Black asked Trudeau.
"Yes, in the beginning, there's an initial expression of interest, perhaps greater toward me than had my last name not been Trudeau.  But rapidly, and this is to Canadians' credit, it shifts very much to what it is that I'm saying, what it is that I have to offer, not any sort of nostalgia for the past or a sense of obligation to my father," Trudeau said.
Justin Trudeau has been a member of parliament since 2008.  This coming election is his first bid for prime minister.  The most recent poll has the Liberals trailing the governing Conservatives in voter support by less than 2 percentage points.