Newly-elected Ontario Progressive Conservative leader Patrick Brown says he's looking forward to working with his former opponent.  Brown says Christine Elliot is more than welcome to continue on as deputy leader of the party unless she'd like to do something else.
"I want to sit down with Christine and see where she wants to pour her heart into, whether that's as deputy leader, whether its continuing the work that she's done in the last number of months on health issues.  Frankly one of the things that's impressed me most about Christine is the passion she has for mental health issues.  I'm going to reach out to Christine and say that a successful P.C. party involves Christine by my side," Brown explained to CP24.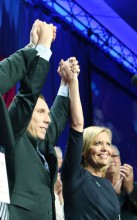 Many of Christine Elliot's supporters considered the campaign by Patrick Brown, as a hostile takeover of the party, given that he was the only candidate from outside the legislature and was rarely seen at Queen's Park.
Brown had the support of just five of 28 PC caucus members, while Elliot had the backing of nineteen MPPs.
Brown is planning on resigning his seat as a Conservative Barrie MP this week.  He needs to find a seat in the provincial legislature, but so far is only saying he wants to win a seat before the 2018 provincial election.