A former friend and occasional driver of then mayor Rob Ford's been found not guilty on drug related charges at his Toronto trial.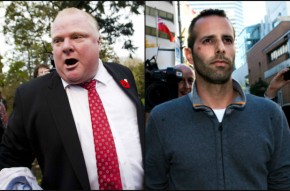 Alexander "Sandro" Lisi was charged with trafficking marijuana, possession of a small quantity of marijuana and possession of the proceeds of crime.
The Crown alleged Lisi supplied pot to co-accused Jay Bahrami, an Etobicoke dry cleaner, who in turn sold it.
Bahrami was also found not guilty.
The judge criticized the undercover officer's testimony, suggesting it was only believable if the judge was "gullible or a fan of farfetched screenplays".
He found the evidence showed a "disturbing pattern" and could not be relied upon.
The judge also questioned if the officer felt pressure from police superiors given the high profile investigation to charge Lisi.
Lisi also faces charges of extortion related to trying to retrieved the infamous Rob Ford "crack video".
He has yet to stand trial on those.