History has been made in Alberta.
The New Democrats have unseated the Progressive Conservatives after 44 years in power.
NDP Leader and Premier-elect Rachel Notley is promising new ideas and a fresh start.  But she is also offering assurances to business leaders in the oil patch who are nervous about the new government.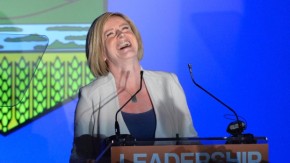 "To Alberta's job creators, great and small, in the energy sector and in every other sector, our government will be a good partner and we will work with you to grow our economy and to secure a more prosperous future for every Albertan in every community," Notley promised in her victory speech.
The NDP won 53 of Alberta's 87 ridings.  And with the victory comes defeat for Jim Prentice, who had only been premier for 233 days.  Prentice told supporters last night, he is resigning from politics.  The Wildrose Party forms the official opposition in the Alberta Legislature.
The stunning victory for the Alberta New Democrats over the Progressive Conservatives has political pundits wondering if the federal Conservatives might be in trouble for the coming national vote. This is the first topic up on the New AM 740's Goldhawk Fights Back after today's 11am news.