Ceremonies continue in Holland to mark the end of the 70th anniversary of World War II.
The Canadian Armed Forces Band and the Victoria's Children's Choir performed earlier this morning, at the Holten Canadian War Cemetary, where 1355 Canadian soldiers who fought to liberate the Dutch from Nazi occupation are buried.
Prime Minister Stephen Harper was among the dignitaries who spoke at today's event.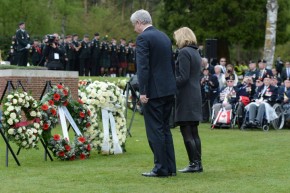 "It has been 70 years since the Canadians buried here, and the veterans with us today, and tens of thousands of other heros; soldiers, sailors and air personnel, struck a great blow for humanity, liberating this country from the cruelty of Nazi oppression, and hastening the end of the most deadly war the world has ever known," Harper explained.
Ceremonies yesterday took place at the Groesbeek War Cemetary in the Netherlands where 2338 Canadian soldiers are buried.
Among the speakers were Prime Minister Harper's wife, Laureen and retired Canadian General Richard Rohmer, who also recently took part in a taping of The Zoomer on our sister station, Vision TV,  to discuss what it means to be Canadian.