Finance Minister Charles Sousa says the $131.9-billion spending plan will be "one of the largest infrastructure investments in Canada since the Last Spike was driven, completing the Canadian Pacific Railway".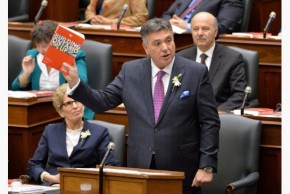 The Mississauga South MPP says gridlock's not a Toronto problem, that everyone from Bomanville to Brampton to Burlington knows how hard it is to get around the Greater Toronto and Hamilton Area in rush hour.
Sousa says government after government's delayed investing in infrastructure and with gridlock costing the economy up to $11-billion a year in the GTHA, adds we cannot afford anymore delays.
Supermarket beer sales and the sell-off of Hydro One will go toward the Liberal's $130-billion, 10-year infrastructure plan.
That includes previously announced improvements to GO and TTC, a new Hurontario LRT linking Brampton and Mississauga, extending Hwy 407 from Pickering to Oshawa and one-third of funding for Toronto Mayor John Tory's SmartTrack rail plan.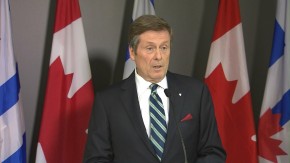 "Toronto needs a strong equal partner to deliver SmartTrack and today's budget confirms we have such a partner," said the mayor.
Budget Highlights
$130-billion for infrastructure over 10 years
Projected balanced budget by 2018
Beer to be sold in 450 grocery stores
3-cents-a-litre beer tax in the fall
60% sell off of Hydro One
Insurance discount for motorists who use snow tires
With a deficit he hopes to eliminate by 2017-18, the Liberals are limiting average annual increase on health to 1.9% and on education to 2% over the next few years.
Opposition is predictably not impressed.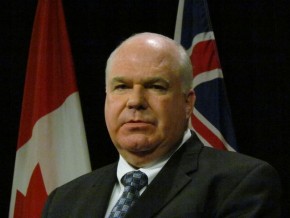 Interim PC Leader Jim Wilson says the government's spending spree is not sustainable and predicts there will be future tax increases.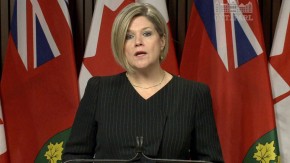 NDP Leader Andrea Horwath warns the budget actually "weakens" social services because funding's not keeping up with inflation.
She's predicting more labour strife down the road.
Susan Eng of CARP – A New Vision of Aging – calls it a stand pat budget with little to help Zoomers but notes the government extends a 3-year, $750-million program to boost homecare.