Famous fans of Joni Mitchell are voicing their support and concern for the Canadian folk song icon while she is hospitalized in Los Angeles.
Harry Potter star Emma Watson said yesterday on Twitter: "heard about Joni and haven't been able to concentrate all morning. So hope she's doing ok."
Kiss lead singer Paul Stanley tweeted a recent picture of himself and the Rock and Roll Hall of Famer, telling his followers to send her love and prayers.
Kevin Bacon, Boy George, Billy Idol and Tori Amos were also among the well-wishers.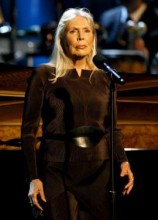 Joni Mitchell, who is 71, was found unconscious in her home Tuesday and taken to a hospital by ambulance. She was later in intensive care and undergoing tests but her twitter account said she was awake and in good spirits. There have been no more posts about her condition.
(Associated Press)