Start 'em up and you can't stop them.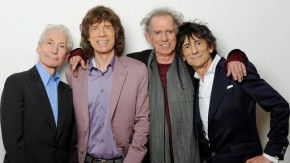 The Rolling Stones – Mick Jagger, 71, Keith Richards, 71, Charlie Watts, 70 and Ronnie Wood, 67 – are heading back on the road, primarily the U.S.
The 15-city "Zip Code" tour begins May 24th in San Diego, ending July 15th in Quebec City – the only Canadian show.
There are two other shows that fans in the GTA may want to attend – July 8th in Detroit, July 11th in Buffalo.
The stage design for the tour will include "a thrust that extends deep into the audience allowing the Stones to interact directly with their fans."
In a statement, Mick Jagger promises the show would deliver the hits.
"We are looking forward to being back on stage and playing your favourite songs!"
Check out the Stones tour promo video
https://www.youtube.com/watch?v=_so1hR1ppyg#t=13
The tour will coincide with the re-release of their 1971 album "Sticky Fingers" May 26th.