Actor Harrison Ford's back home recovering from injuries suffered in a plane crash more than three weeks ago.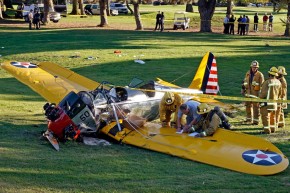 The 72-year old crash landed his Second World War plane on a golf course in Venice, California March 5.
He piloted the plane away from homes.
This isn't the first time the Indiana Jones star has had a close call.
In 1999, he and his instructor escaped uninjured after he was forced to crash-land a helicopter during a training flight.
Then a year later, he made another emergency landing, saving himself and a passenger, in a Beechcraft Bonanza single-engine plane after strong winds forced him to the ground.