Prepare to wipe a tear.
The next season of "Downton Abbey" will be its last.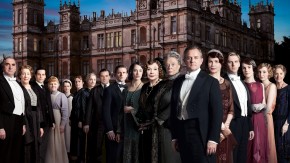 Maggie Smith, who portrays matriarch Lady Violet Crawley, recently predicted in the Sunday Times that the sixth season would be the end.
"They say this is the last one and I can't see how it could go on," said Smith, adding "I mean, (my character) certainly can't keep going.  To my knowledge, I must be 110 by now."
Executive producer Gareth Neame says, "Inevitably there comes a time when all shows should end and Downton is no exception."
Created by Julian Fellowes, the British drama follows an aristocratic family's fortunes from 1912 to the mid-1920s.
"Exactly why the series had such an impact and reached so many people around the world, all nationalities, all ages, all types, I cannot begin to explain."
His next project will be The Gilded Age, a period drama set in New York.
The show's won a string of awards since Downton first opened its doors in 2010.
Downton Abbey can be seen on ZoomerMedia's sister station "Vision TV".