Prime Minister Benjamin Netanyahu says he hopes to form a new government within two to three weeks.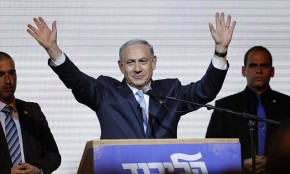 His ruling Likud Party scored a resounding victory, capturing 30 out of parliament's 120 seats.
Exit polls had suggested a tight race with the opposition Zionist Union but it won only 24 seats.
The Arab Israeli Joint List emerged as the third party with 14 seats.
In his election speech, Netanyahu said,"The reality isn't waiting on us.  Reality isn't taking a break.  The citizens of Israel expect us to quickly put together a leadership that will work for the sake of the country's security, economy, and society, and that is what I will do."
Speaking on a visit to the Western Wall this afternoon, Netanyahu said he was "thrilled by the heavy responsibility" of his election win.