A Pakistani man is under arrest, accused of plotting to blow up several buildings in Toronto's financial district as well as the U.S. consulate.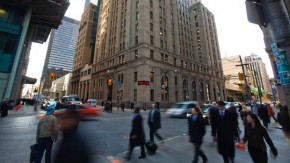 Jahanzeb Malik appeared before an immigration review board panel hearing by video conference from the detention centre in Lindsay.
The Harper government is seeking to deport him as a security threat.
Malik allegedly told an undercover police officer he'd attended training camps in Libya and wanted to build an explosive device to conduct attacks in Toronto.
The federal panel has heard the planning was elaborate, including discussing the video message that would be left behind to inspire others.
Malik faces no criminal charges at this point and none of the allegations has been proven.
He came to Canada on a student visa in 2004 and became a permanent resident five years later after a marriage that's now ended.