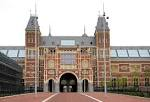 A terminally ill woman's last wish has been granted – by a Dutch charity.
The dying woman got to see masterpieces by Rembrandt at the Rijksmuseum.
She was wheeled into the world famous museum in Amsterdam – on a special bed – so she could enjoy a private viewing of the artworks.
The 78-year old woman suffers from ALS (Lou Gehrig's Disease) and was among three dying patients taken to the museum this week by The Ambulance Wish Foundation.
They visited the museum after-hours, away from the crowds who've been flocking to the Rijksmuseum's blockbuster Rembrandt show.
A spokesman says the unidentified woman was "very happy to be able to enjoy Rembrandt in peace for the very last time."