It'll be a treat for jazz fans visiting Los Angeles in June.
The Playboy Jazz Festival will pay tribute to one of L.A.'s own jazz greats, Gerald Wilson, with son Anthony Wilson leading his late father's big band.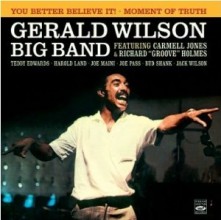 Listen to this trademark piece by Gerald Wilson Big Band called You Better Believe It!  Moment of Truth
The just announced line-up features Herbie Hancock and Wayne Shorter with the Monk Institute of Jazz Performance Ensemble, while trumpeter Terence Blanchard showcases his new electric E-Collective.
Los Angeles Philharmonic presenter Laura Connelly says the June 13-14 festival at the Hollywood Bowl offers a mix of "jazz icons, emerging artists and new talent."