As she prepares to step down as head of Ontario's human rights commission, Barbara Hall says she's seen progress in the combating racism and other forms of discrimination.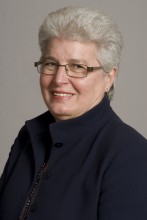 "The most discouraging part of this work is the persistence of racism, particulary as it impacts black Ontarians and aboriginal people.  We see progress on issues but we need to — as a commission, as a society — be vigilant about these issues.  It requires constant pushing."
Looking back over her term, Hall's especially proud of what the commission's done for the mentally challenged.
The 68-year old former city councillor and Toronto mayor says, "Unless we're able to eliminate discrimination and create a situation where all people are respected, all our lives are diminished."
Hall's 10 years as chief commissioner ends Friday.