As expected, the White House has rejected a proposal to build the controversial pipeline.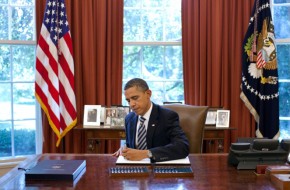 The president vetoing it soon after the bill arrived from the Senate this afternoon.
Press Secretary Josh Earnest says Barack Obama vetoed it "without any drama or fanfare or delay."
Overriding the veto's unlikely.
The bill passed the U.S. House of Representatives 270-152 and the Senate 62-36 – margins short of the two-thirds majorities needed to override.
Senate Majority Leader Mitch McConnell says a veto override vote will be scheduled by March 3.
Today's presidential veto does not mean the end of the debate.
Obama could still approve the project on his own authority, although he's suggested its impacts on the environment would outweigh any economic benefits.
Meanwhile, the U.S. State Department continues reviewing the program to determine whether it's in the national interest.
Spokeswoman Jen Psaki said recently, "It's an ongoing process that doesn't have a deadline."
Republicans have also said they might attach a Keystone provision to future bills, in hopes of reaching a compromise that could earn the president's signature or result in enough votes to override his veto.