Four months after coming in third in the Toronto mayoral election, Olivia Chow has taken a teaching job at Ryerson.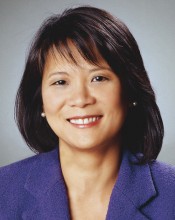 The university's appointed the 57-year old Chow as a distinguished visiting professor in the Faculty of Arts for three years.
Saying she loves to teach, Chow says she's excited to join a program where she'll focus partially on mentorship.
In the part-time post, she may teach her own courses and will lecture on community organizing and activism and help organize events and a major symposium.
Chow joins the school where her late husband, NDP leader Jack Layton, taught for years.
She attended the U of T and the then Ontario College of Art.
Chow taught courses at George Brown College while she was a city councillor before leaving for Ottawa.