The plight of people living with Alzheimer's Disease received attention at the Academy Awards last night.
Julianne Moore won the best actress Oscar for her role in Still Alice.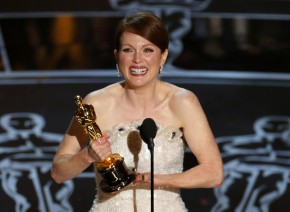 "I'm thrilled, actually, that we were able to hopefully, shine a light on Alzheimer's Disease," Moore said in her acceptance speech.  "So many people with this disease feel isolated and marginalized, and one of the wonderful things about movies is it makes us feel seen and not alone, and people with Alzheimer's deserve to be seen so that we can find a cure."
54 year old Moore gives a nuanced and heart-rending portrayal of a vibrant, ambitious Columbia University professor diagnosed with early onset Alzheimer's disease.  It was her first Oscar in five acting nominations.
And in an emotional performance, country singer Tim McGraw sang Glen Campbell's Oscar nominated song I'm Not Gonna Miss You.  Glen Campbell has stage 6 Alzheimer's disease which prevented him from performing the song himself.  Co-written by Campbell and Julian Raymond, I'm Not Gonna Miss You did not win the best original song Oscar. The winner was Glory from the film Selma.