Kathleen Wynne's come out swinging at her critics, telling them to stop their "hypocritical" attacks on her deputy chief of staff.
New Democrats and Tories say the premier must "come clean" about her role in the "apparent contravention" of a bribery section of the Election Act by senior adviser Pat Sorbara and Sudbury Liberal organizer Gerry Lougheed.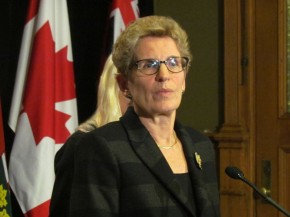 The premier says her deputy chief of staff did have a conversation with Andrew Olivier after Wynne says she told him she would be appointing Glenn Thibault as the Liberal candidate and that she also made suggestions about how Olivier might stay involved.
But the premier says at no time were any commitments made and that she'll continue to fully cooperate with authorities.
The opposition wants Wynne to ask Sorbara to leave the premier's office until an OPP investigation is completed.
But the premier says she won't force someone to resign over allegations she does not believe are true.
Wynne also says Tories and New Democrats have approached the government, offering to resign in exchange for government appointments and were turned down but is not identifying them.