Glen Campbell's daughter says that although she can't have a typical conversation with her father, who suffers from Alzheimer's Disease, she's able to speak to him through music.
In an interview this week, Ashley Campbell says when she plays her guitar for her father "it really seems to reach him."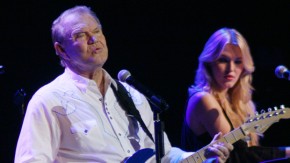 The 28-year-old daughter of the country music icon says it is tough watching her father suffer from the disease, but she's hoping to carry on his legacy with her own music career.
She sings an original song, Remembering and a cover of  Home Again  on the soundtrack for the documentary about his life, Glen Campbell: I'll Be Me.
The soundtrack also features I'm Not Gonna Miss You, for which Glen Campbell is nominated for best original song at Sunday's Academy Awards.
Watch the video here and have a tissue handy.
(The Associated Press)