The idea of putting body cameras on police officers is being flagged by Canada's privacy commissioners.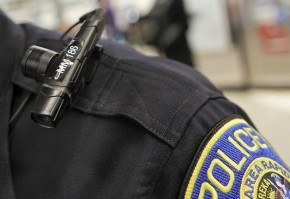 There is some evidence that use of body worn cameras by police reduces both complaints against police and the use of force by front line officers.  Some police forces in Canada have already tested or are testing the technology, including the Toronto Police Service, which is launching a pilot test this month.
But because body cameras capture video and audio of interaction by officers with individuals, privacy commissioners say in a new report, this means they contain personal information and so must comply with Canadian privacy laws governing the protection of personal information.
The document to be released today is designed to help law enforcement agencies develop policies and procedures governing the use of body worn cameras.
Canada's Privacy Commissioner Daniel Therrien says in a statement, the right balance needs to be struck between law enforcement needs and the privacy rights of Canadians.