Active Zoomer and "Murder She Wrote" star Angela Lansbury, who is currently starring in "Blithe Spirit" in Toronto, recalls her first professional theatrical gig.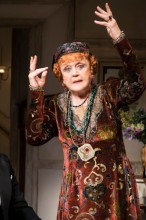 She remembers going to Montreal as a 16-year old to perform a solo stage act in a Russian nightclub.
"When I look back I think, 'My goodness, you had a lot of courage, old girl."'
Most of those in the audience were young U.K. Royal Air Force flyers who were being trained in Canada, "so I was home in a sense."
The 89-year old Lansbury went on to an illustrious career that's seen her win an honorary Oscar, five Tony Awards and six Golden Globes.
Her last Tony was in 2009 for her role as Madame Arcati in "Blithe Spirit", which is running now at the Princess of Wales Theatre through March 15.
Having had both knees and hips replace due to arthritis, Lansbury says she's able to perform as long as she exercises and doesn't do much more than the show.
She's not sure what she'll do once the tour ends after its next stop in Washington, but says "there's a possibility" she'll eventually take on the play "The Chalk Garden" in New York.
"I have to say that today, the theatre really thrills me to be part of and to be involved in.  Movies don't interest me, really, at the present time — unless something extraordinary was presented to me in which I felt I wasn't just somebody with Alzheimer's.  I just don't want to do that, I'm not going to do that."
Catch "Murder She Wrote" weeknights at 7pm on Vision TV.