Bill Anderson, host of Bill's Classical Jukebox on the New Classical 96.3 FM, is celebrating 50 years in broadcasting.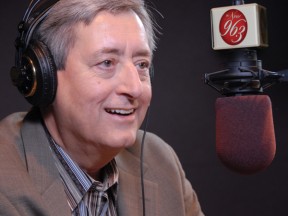 Bill tells sister station, the New AM 740's "Goldhawk Fights Back," he wasn't thinking about radio as a career until his Grade 13 English teacher mentioned it.
"She said 'Have you ever thought of broadcasting?' because it's the kind of field where you need to know something about almost everything, but you only need to be an expert in broadcasting.  So I checked it out, went to Ryerson and here we are."
Bill recalls the story his late mother told that foreshadowed what he'd do for a living.
"Our radio was a piece of furniture.  As a three-year old I climbed up on top and I said 'Look Mom, I'm on the radio!'  I don't remember it but she told me that's what happened.  It was a precursor of what was to come."
Bill Anderson's not thinking about retirement.
In fact, he says he's lucky to be with ZoomerMedia that not only allows him to keep working, but encourages it.
You can hear Bill's Classical Jukebox, weekdays 10-3pm on the New Classical 96.3 FM.