Canada's Prime Minister is taking aim at a federal court ruling which allows new Canadians to cover their faces at citizenship ceremonies.
Stephen Harper says the government will appeal the decision based on what he believes is the sentiment held by most Canadians.
"It is offensive that someone would hide their identity at the very moment where they are committing to join the Canadian family," Harper explained, "This is a society that is transparent, open and where people are equal.  And that is just, I think we find that offensive.  That is not acceptable to Canadians and we will proceed with action on that."
A federal judge ruled last week that a portion of the law requiring citizenship candidates to remove their face coverings while taking the oath was unlawful.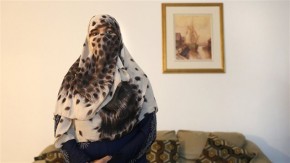 The case had been brought on by Zunera Ishaq, a Pakistani national who had sued the Minister of Citizenship and Immigration claiming the government's policy on veils violated the Canadian Charter of Rights and Freedoms.
Ishaq, who wears a niqab when in public, wants to be allowed to take the oath of citizenship while veiled.