Toronto's mayor has unveiled an in-house plan to deal with a provincial funding shortfall of $86-million.
While Queen's Park offered city hall a loan last month, John Tory said Toronto would go its own way.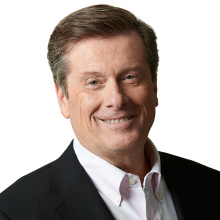 He's now explained what that will mean.
Under the proposed plan, that'll be presented to the budget committee Friday, Tory said the city would "temporarily" reduce capital contributions from the operating budget by $130-million over three years.  But the city would then borrow from its reserves to cover this temporary drop in capital funding.
The mayor stresses this is the best strategy for the city.
"Building the city, building the transit, getting the housing fixed, putting the support systems in place that our people need in a financially responsible way requires not rhetoric or a meat cleaver, but competence, common sense and discipline."