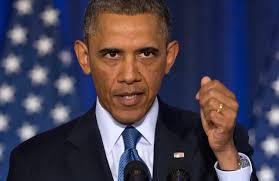 A big ask from the U.S. President.
Barack Obama wants new war-powers to battle Islamic State terrorists.
And he vows to Congress that it won't become the authorization for another ground war – like the U.S. fought in Iraq and Afghanistan.
Speaking after he submitted his request for new access to military force – to battle Islamic State – Obama said the draft authorization doesn't call for the deployment of ground forces.
He says that's not necessary – but he could deploy Special Forces if, for example, the U.S. had intelligence about where I.S. leaders were gathering.
Obama says the mission is difficult and will stay that way for some time. But he says the U.S.-led coalition is on the offensive and he says, "ISIL is going to lose."