Ottawa's taking a step so Canadians find out before going to their pharmacy that a drug they've prescribed is no longer available.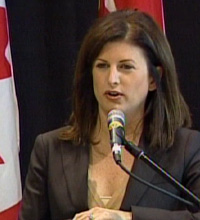 Health Minister Rona Ambrose has announced pharmaceutical companies will be required to post drug shortages on a new Health Canada website or risk being named and shamed.
She says so far, companies have volunteered to post shortages, but notes two cases where firms did not notify the public when there were shortages of a cancer drug and nitroglycerin, which is used to treat a heart condition.
CARP – A New Vision of Aging – welcomes the move, saying it's an important first stop in bringing some accountability into the system.
Susan Eng, VP of Advocacy for CARP, says it will "help people and their doctors switch to another medication if there are viable, affordable substitutes.  However, that is not always possible and neither the doctors nor the pharmacists can do anything about it.
It should be a condition of permitting the drug to be sold in Canada and/or listing on public drug formularies to ensure a steady supply of needed medication and orderly transition when a company choose to discontinue manufacture of a particular drug."