A painting by French artist Paul Gauguin, titled "When Will You Marry?" has broken the record for the most expensive work of art ever sold.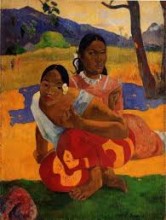 The painting fetched $300 million and was reportedly sold by a Swiss art collector to the state-financed Qatar Museums. The wealthy Arab nation, known for its abundance of oil and natural gas, also set the previous record when it purchased Paul Cézanne's "The Card Players" for $259 million in 2011.
The record-breaking Gauguin depicts two Tahitian women seated in a bright, natural setting.  Guguin lived in French Polynesia for a period of time, where he became fascinated with Tahitian life.