The Harper government will take its time before acting on today's historic Supreme Court ruling on doctor-assisted death.
The nine justices are giving Parliament one year to draft new legislation.
Justice Minister Peter MacKay says the landmark ruling has far-reaching implications, "so we intend to take the time to look at this decision carefully, thoughtfully."
While admitting this year's election is a factor, MacKay stresses, "it's not the primary consideration."
At least half a dozen private member's bills aimed at reforming the right-to-die ban have been debated and defeated since 1993, the most recent in April 2010.
Manitoba Conservative MP Steven Fletcher, a quadriplegic after hitting a moose with his car in 1996, introduced a private member's bill, which was also introduced in the Senate before Christmas.
He told the New AM 740's Goldhawk Fights Back, "What the court has done will improve the quality and length of lives of many, many, many Canadians.  One way or the other it will touch the lives of everyone who's listening to your radio show and everyone else in Canada."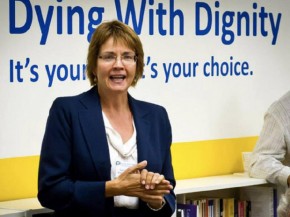 Dying With Dignity Canada's CEO Wanda Morris also reacted to the ruling on Goldhawk Fights Back.
"What a decision, what a day.  It's momentous.  It's beyond anything we might have expected.  While we're celebrating today, tomorrow we get right back to work because there's no guarantee that a just and fair decision is going to result in a just and fair law.  And we're going to be working really hard to make sure it does."