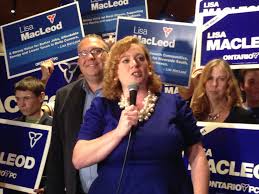 Lisa MacLeod will reportedly pull out of the party's leadership race tomorrow.
A source within her campaign confirms MacLeod will announce her decision at a news conference at 11 a.m. in Ottawa.
Nothing on whether or not MacLeod will also announce her intention to quit the provincial party – to run federally for the seat soon to be vacated by former Foreign Affairs Minister John Baird.
MacLeod admitted the landscape changed this week after Baird announced he would resign his Ottawa West-Nepean seat – and after rival PC leadership candidate Vic Fedeli  pulled out of the race.
If she didn't withdraw by the close of the business day tomorrow – MacLeod would have had to post another $50,000 with the PC party.
.