John Baird made it official this morning, telling a packed but hushed House of Commons that he is stepping down as Prime Minister Stephen Harper's foreign affairs minister and leaving federal politics.
"Mr. Speaker, last night I spoke to the prime minister and informed him that I was standing down from cabinet.  I expressed my intention not to run in the next general election in the new riding of Nepean, and I also expressed my intention to stand down as a member of parliament for Ottawa West-Nepean weeks ahead," Baird explained while smiling, "Mr. Speaker, I will miss this place very much and many of the people in it, on all sides, but the time has come for me to start a new chapter in my life."
Listen to Baird's full resignation speech:
Baird smiled broadly to a standing ovation from around the Commons and shook hands and hugged Members of Parliament who lined up to wish him well, including Prime Minister Harper.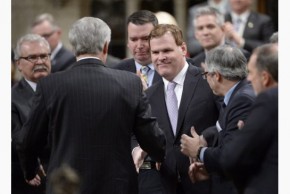 There is widespread speculation that John Baird is headed to a career in the private sector, but he did not outline his future intentions in his address to Parliament.
Friends and political opponents alike have taken to Twitter to pay tribute to Baird, including former interim Liberal Leader Bob Rae and NDP Foreign Affairs Critic Paul Dewar.