John Baird is set to announce he's resigning as Canada's Foreign Affairs Minister and won't run for re-election later this year.
A number of media outlets have confirmed the 45 year old Ottawa West-Nepean MP is set to announce his resignation in Parliament at 10am.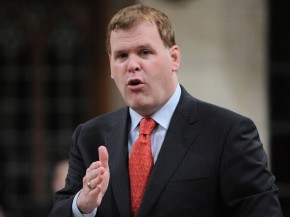 Various Conservative party sources say Baird is ready to move on after 20 years in public service, both in the federal and Ontario provincial governments.
Many of those who've sat across from Baird in the Commons have respect for him.
Former Interim Liberal Leader Bob Rae tweeted this morning, "John Baird is bombastic, mean spirited, vicious, eloquent, generous, smart, cantankerous, hardworking, ingratiating, effective, human."
International Trade Minister Ed Fast appears poised to take over as acting foreign affairs minister. But there is also speculation cabinet ministers Lisa Raitt or Chris Alexander could take over.