While the province spends $1-billion a year on underutilitzed schools, that does not mean they're all going to close.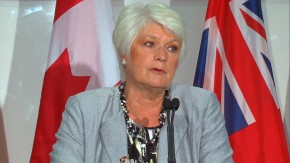 Education Minister Liz Sandals says most of the more than 600 schools with too few students are in the Toronto-area, but that the problem exists across Ontario and the government can't afford to fund empty spaces any longer.
She recognizes that in many small, rural communities, a school will have to stay open because students would have to travel too far to the next community.
The province wants the different schools boards in each community to consider consolidation where it makes sense.
Sandals points out in larger cities, it may be a smaller, but older school with 100% enrolment that should close with the students moved to an underutilized school with modern facilities.
The Toronto District School Board's released a list of 130 schools that are running at 65% capacity or less.