Lowering the speed limit below the standard 50 kilometres an hour in cities and towns across the province is an idea now being considered at Queen's Park.
In a bid to improve safety for pedestrians, cyclists and motorists, Transportation Minister Steven Del Duca will begin comprehensive consultations with municipalities across the province to discuss changes.
A coroner's review into pedestrian deaths in 2010 urged the province to allow municipalities to lower the default speed limit to 40 kilometres an hour.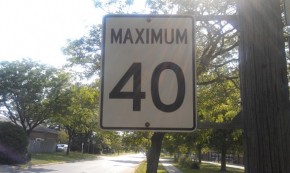 The World Health Organization has found that pedestrians hit by a vehicle travelling at around 45 kilometres an hour have a 50 percent change of being killed.  But those struck by a vehicle going 30 kilometres an hour or slower have a 90 percent survival rate.
The City's Chief Medical officer of Health recommended the change from 50 to 40 kilometres an hour back in 2012, but then Mayor Rob Ford dismissed the proposal outright.
City Councillor Joe Mihevc will be on The New AM 740's Goldhawk Fights Back at 12:30pm today to talk about the possibility of lowering the speed limit.