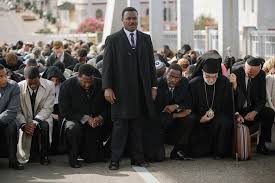 David Oyelowo, the star of "Selma" is supporting fellow British actor, Benedict Cumberbatch.
Last week on the PBS Tavis Smiley show, Cumberbatch said, "as far as coloured actors go".. there were more opportunities in the U.S. than the U.K. – adding "and that's something that needs to change."
He later apologized for his "thoughtless use of  inappropriate language" saying he was "devastated to have caused offence by using this outmoded terminology."
Oyelowo plays Martin Luther King Jr. in "Selma."
The black actor says people should focus on what Cumberbatch was saying, instead of the terminology he used. He says political correctness has gone too far in this case.
"He was actually being very supportive of the likes of me, and other black actors and actresses – we do have greater opportunities in the U.S. than the U.K," adding, "We use the term 'people of colour' in America. Is that immensely different to what he said? I don't think so. Just focus on what he was trying to say."
Ava DuVernay's "Selma" is nominated for a Best Picture Academy Award – but it was snubbed in other top categories.