Transit riders will be able to use Presto cards on the TTC a year ahead of schedule.  TTC CEO Andy Byford says a faster Presto implementation strategy will have the system's hardware installed on all streetcars this year and the rest of the TTC by the end of 2016, which is at least a year ahead of schedule.
The original idea was to save the cost of installing Presto on the current streetcars, which are slowly being replaced and put it only on the incoming fleet.  Instead, Byford says the plan now is to fit all streetcars for Presto by the end of the year.
The TTC is also aiming this year to install Presto hardware at 12 subway stations, bringing the total to 26.  All buses are to accept Presto by the summer of 2016 and the remaining stations by the end of that year.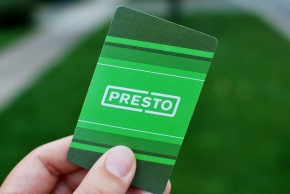 The Presto smart card system has been installed on GO Transit and seven smaller agencies in Southern Ontario.  About 1.4 million people now have the card, which carries a balance and allows riders to use them without a ticket or token.