A year after making a name for herself at the Australian Open, Eugenie Bouchard finds herself in the spotlight at the same tournament.
After the number-7 ranked player in the world defeated Kiki Bertens of the Netherlands 6-0, 6-3 in less than an hour, the male presenter conducting the post-match on-court interview requested "Can you give us a twirl?"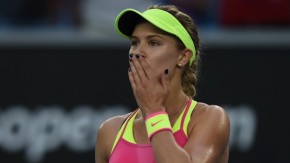 Her jaw dropping and eyes opening wide she responded, "A twirl?"
Somewhat uncomfortably, she did, then laughed and buried her face in her hands.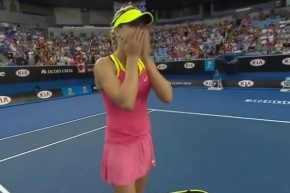 During her post-match news conference Bouchard spoke first about her dominating victory and then addressed the twirl.
She said, "It was very unexpected.  I don't know, an old guy asking you to twirl.  It was funny."
But the same presenter asked Serena Williams to twirl for the crowd, which she often does to thank the crowd after a win.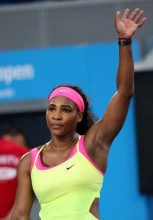 Bouchard says "Serena is good at her twirl.  She does them all the time."
Both women are among several players sporting this season's colour theme of neon pink and yellow outfits.