Right now, children 12 and under pay 75-cents to ride the TTC.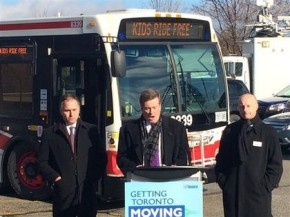 If Mayor John Tory's proposals are approved, then they would get a free ride while others would have to throw in an extra dime.
Only cash fares would stay the same.
During the election campaign, Tory vowed not to raise fares.
But he says he's had to bac track after assessing the TTC's financial situation.
"Deliberate decisions were made under my predecessor to reduce service and increase crowding levels on the transit system.  To put it bluntly, we starved our transit system to the breaking point."
According to the mayor, the fare hike would generate $43-million to help pay for changes, including new buses, restored bus lines and more.
The kids for free and fare hike proposals are subject to approval by the City, which is just beginning the process of shaping its new budgets for the year.